How to transform your office printer into a smart workplace assistant
The office environment is ever-changing with a mobile and always connected workforce. Your office printers need to keep up and offer more than just the regular copy, scan, fax or print functionality - as well as being accessible from anywhere.
Printers are no longer standalone, task-specific machines. With Xerox® ConnectKey® Technology your multifunction printer (MFD) has the power to evolve into a digital workplace hub that can also translate, share and create electronic documents by using cloud connectivity. 
Convert any hard-copy documents or images into easily accessible cloud-based electronic documents; use your smartphone as a mobile scanner; and securely locate and print documents on demand from any ConnectKey® Technology printer.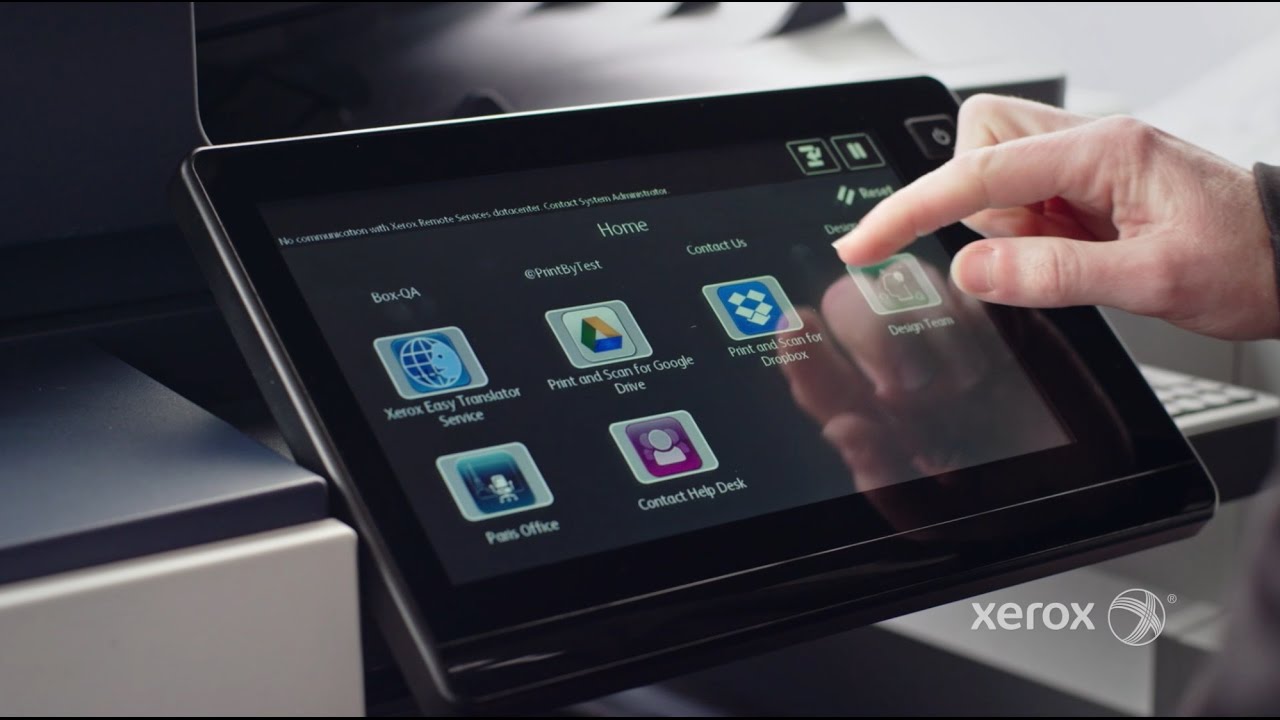 Xerox® ConnectKey® Technology features:
Mobile & Cloud Ready  
Ensure your employees can work and use the office printer from anywhere. Using a mobile device  including a laptop, tablet or smartphone to access the printer away from the workplace is possible with Xerox® ConnectKey® Technology. Download, share, print, scan, distribute and even translate documents on the go, simply by tapping an app. 
Top Security 
Xerox understands the importance of security for you and your business. That's why every Xerox® ConnectKey® Technology-enabled device is equipped with a holistic four-point approach to security, ensuring comprehensive, all-encompassing protection for all system components and points of vulnerability.
A Simple User Interface Experience  
With a flexible design, Xerox® ConnectKey® Technology allows you to personalise the printer's touchscreen so it works exactly the way you like. The AltaLink® and VersaLink® products offer true tablet-like functionality. Simply configure jobs by scrolling, just how you would do with a tablet! The intuitive design is simple to use, resulting in fewer clicks to complete a job and less time spent at the printer. 
Workflow Apps
Automate time consuming tasks with a range of one-touch apps. Find a collection of easily downloadable apps in the Xerox App Gallery (browse via the user interface of the printer) to expand and customise the capabilities of your MFP or Xerox® ConnectKey® Technology–equipped printer. With a built-in licensing flexibility, you can add, drop or switch out apps from your own tailored collection of workplace apps whenever you need. 
Sustainable Performance
Xerox printers provide environmental benefits without compromising performance, quality or reliability. And the energy- and paper-saving features of these machines bring value, efficiency and flexibility to your workplace.
By tapping into the digital world of Xerox, you can streamline processes and workflows with your office printers to enhance your employees' productivity and efficiency, wherever they work. 
Automate mundane tasks and deliver streamlined productivity with apps on any device to support seamless, flexible work from anywhere.
Software, service and expertise to optimise your print infrastructure, without the burden.